Product Description
Data(HS-1873T-K1200)Side Flexing Flexible Chains
Belt Material
Width W
Working Load 
Radius
Reverse Radius
Weight
mm
inch
N(21°C)
lbs(21°C)
mm
inch
mm
inch
kg/m
POM
305
12.00
3400
765
610
24.0
305
24.0
3.00
Avantages of the CHINAMFG products
1.CHINAMFG modular conveyor belt has more than 10 times service life,long life time and reducing replacement cost than traditional conveyor belt.
2.CHINAMFG modular conveyor belt is easy to assemble, allowing only the replacement of damaged parts, easy to replace, saving maintenance time and costs.
3.CHINAMFG modular conveyor belt has strong wear resistance, high temperature resistance, cold resistance and oil resistance.
4.CHINAMFG modular conveyor belt is easy to clean, farewell to the propagation of bacteria, especially suitable for application in food industry.
5.CHINAMFG modular conveyor belt in food and non-food industry, it plays an important role in the character of durability,low maintenance cost and easy to clean.
6.CHINAMFG has agents in many countries and can provide good after-sales service.
7.CHINAMFG not only has a complete production line to meet different application needs, but also can provide comprehensive product knowledge and experience. After 20 years of innovative research and development, we can provide more than 5000 kinds of solutions to provide perfect support for you in the field of transportation.
Application
Beverages / Bottling Industry
-Deal with various bottle and package sizes to meet market demands.
-Prevent big and small  from colliding on the same belt.
-Eco-friendly and sustainable
 
Cooperation Case
We Cooperated with DHL & Amazon to Help Them Solve Multi-scenario Application Parcel Sorting
Global cooperation broke through 50+ agent service providers
and signed strategic cooperation agreements with "Safari Belting Systems" in the United States
"HONG'S BELT Branches" in Europe, and "HONG'S BELT Branches" in India
Exhibitions around the world
Every year CHINAMFG will go to all over the world to participate in exhibitions
We have served projects in more than 120 regions and countries with global delivery capabilities
Hong's Belt team can provide customers with more than 5,000 solutions
Factory
HONG'S BELT
Xihu (West Lake) Dis. Xinhai (HangZhou) Technology Co., Ltd is a leading high-tech company providing intelligent conveyor solutions. We have a modern industrialized manufacturing area of 100,000 square CHINAMFG for the production of modular plastic belts and conveying systems solutions.
Hong'sbelt Group currently has more than 1,000 employees, including more than 100 R&D teams, more than 500 production and functional departments, and about 300 sales and sales support departments. The sales points are distributed on all continents of the world.Realize Automatic and Intelligent.
We developed a fully integrated industrial chain with independent core technology, key components, leading products and conveyor systems solutions.
Certificate
We hold more than 400 national authorized patents and software certifications
Allseries of products have obtained the US "FDA" food grade certification And "EU" certification in Europe
Obtained "ISO9001-2008" quality management system certification
FAQ
Q: Are you a trading company or manufacturer?
A: We are a manufacturer of modular belt, chains belt and conveyor components, with head office in HangZhou, China, and 2 big factories located in HangZhou and HangZhou.
Q: Are HONGSBELT  products in accordance with FDA regulations and EU Directives?
A: Our standard materials (PP, POM, PE, PA) comply with the FDA regulations and EU Directives. A letter of assurance can be made available on demand.
Q: Can we use HONGSBELT  Modular Conveyor Belt in corrosive environment?
A: HONGSBELT belts can be used in medium to severe CHINAMFG applications, however, special product recommendations and conveyor design guidelines must be followed. More information, pls contact our online Customer Service or email to HONGSBELT Team.
Q: What is the temperature range for the belt material?
A: HONGSBELT belts offers various materials suitable for operation in temperatures ranging from -60 °C to 260 °C. Specific material should be chosen based on your operating temperature.
Q: What is the real meaning of the belt strength?    
A: The belt strength is the maximum tension (per foot or meter of width) the belt can continuously run at.
Q: How long will it take me to get quotation?
A: You will always receive any requested quote by the end of the next working day at the latest, but often quotes are emailed to you before you hang up the phone.
| | |
| --- | --- |
| Material: | POM–Dp,POM-Lf |
| Structure: | Top Chain |
| Surface Treatment: | Plastic |
| Chain Size: | 3.048m/Box |
| Feature: | Fire Resistant, Oil Resistant, Heat Resistant |
| Pin Material: | Cold Rolled Austenitic Stainless Steel |
Samples:

US$ 70/Meter

1 Meter(Min.Order)

|
Request Sample
Can a conveyor chain be used in pharmaceutical manufacturing?
Yes, conveyor chains can be used in pharmaceutical manufacturing for various applications. Conveyor systems play a crucial role in the efficient and safe transportation of pharmaceutical products throughout the manufacturing process. Here are some key considerations when using conveyor chains in pharmaceutical manufacturing:
1. Material Selection:
– Choose conveyor chains made from materials that are suitable for pharmaceutical applications, such as stainless steel or FDA-approved plastic. These materials offer corrosion resistance, cleanliness, and compliance with industry regulations.
2. Cleanliness and Sanitation:
– Ensure that the conveyor chain design allows for easy cleaning and sanitation. Smooth surfaces, minimal crevices, and access for cleaning equipment are important to maintain a hygienic environment.
3. Contamination Control:
– Implement measures to prevent contamination of pharmaceutical products. This includes using chain lubricants that are safe for pharmaceutical applications and implementing proper handling and storage procedures.
4. Product Protection:
– Choose conveyor chain systems that minimize product damage or degradation. This can include utilizing gentle product handling features such as low-friction surfaces, adjustable speed controls, and proper product spacing.
5. Regulatory Compliance:
– Ensure that the conveyor chain system complies with pharmaceutical industry regulations and guidelines, such as Good Manufacturing Practices (GMP) and the requirements of regulatory bodies like the FDA.
6. Integration with Equipment:
– Consider the integration of conveyor chains with other equipment in the pharmaceutical manufacturing process, such as labeling machines, filling machines, and packaging equipment. The conveyor system should provide seamless operation and synchronization with these machines.
By carefully selecting and designing conveyor chains specifically for pharmaceutical manufacturing, it is possible to meet the stringent requirements of the industry in terms of cleanliness, product integrity, and regulatory compliance.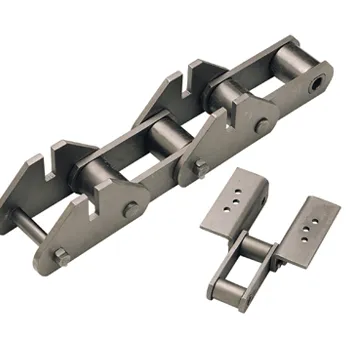 How does a conveyor chain impact material flow in a production line?
A conveyor chain plays a crucial role in facilitating the smooth and efficient flow of materials in a production line. Here are the key ways in which a conveyor chain impacts material flow:
1. Continuous Movement: A conveyor chain enables continuous movement of materials along the production line. By securely holding and transporting the materials, the chain ensures a consistent flow without interruptions or delays.
2. Speed Control: The speed at which the conveyor chain moves can be adjusted to match the desired production rate. This allows for precise control over the material flow, ensuring that it aligns with the downstream processes and avoids bottlenecks or overloading.
3. Orientation and Positioning: Conveyor chains can be designed with specific attachments or fixtures to orient and position materials in a desired manner. This ensures that the materials are presented correctly for processing, assembly, or packaging, optimizing the overall production flow.
4. Sorting and Diverging: In certain applications, conveyor chains can be equipped with mechanisms for sorting or diverging materials based on predetermined criteria. This allows for efficient routing of different products or components to their respective destinations, streamlining the material flow.
5. Accumulation and Buffering: Conveyor chains can incorporate accumulation zones or buffering areas where materials can temporarily pause or accumulate. This feature is useful when downstream processes experience temporary disruptions or when there is a need to balance the flow between different production stages.
6. Integration with Equipment: Conveyor chains can be integrated with other equipment or machines in the production line, such as robotic arms, automated packaging systems, or inspection stations. This seamless integration enables synchronized material handling, optimizing the flow and efficiency of the entire production process.
7. Customization for Specific Needs: Conveyor chains can be customized to meet specific material handling requirements. This includes considerations such as chain width, length, height adjustments, inclines or declines, and specialized attachments or guides. Such customization ensures that the material flow is tailored to the unique needs of the production line.
By providing a reliable and controlled method of transporting materials, a conveyor chain significantly influences the material flow in a production line. It enhances productivity, reduces manual handling, minimizes the risk of errors or damage, and ultimately contributes to the overall efficiency and success of the manufacturing process.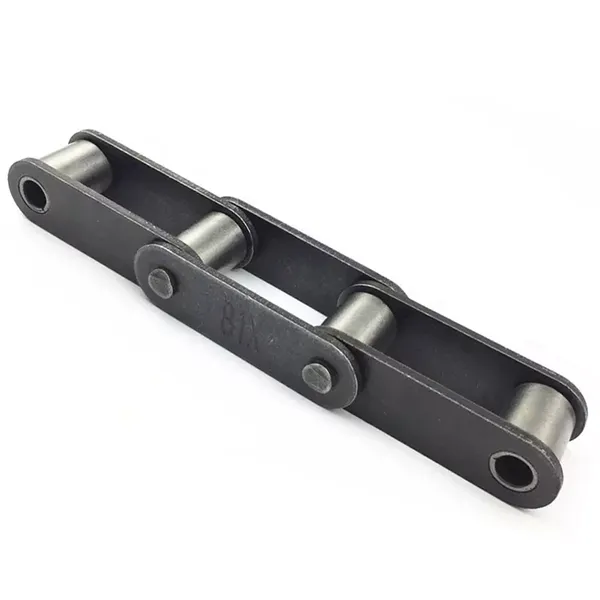 What industries commonly use conveyor chains?
Conveyor chains are widely used in various industries for efficient material handling and transportation. Here are some of the industries commonly using conveyor chains:
Manufacturing: Conveyor chains are extensively used in manufacturing industries such as automotive, electronics, appliances, and machinery. They facilitate the movement of components, parts, and finished products along assembly lines.
Food and Beverage: The food and beverage industry relies heavily on conveyor chains for conveying and processing food products, including packaging, sorting, and distribution. Conveyor chains in this industry often have specific requirements such as sanitary design and resistance to contaminants.
Logistics and Warehousing: Conveyor chains are integral to logistics and warehousing operations for efficient handling of goods, including sorting, loading, unloading, and distribution. They are commonly used in distribution centers, airports, and postal facilities.
Mining and Quarrying: Conveyor chains play a crucial role in mining and quarrying operations by transporting bulk materials such as coal, ore, gravel, and aggregates. They are designed to withstand heavy loads and harsh environments.
Agriculture: In the agricultural sector, conveyor chains are used for handling crops, grains, seeds, and livestock feed. They are employed in processing plants, grain elevators, and animal feed production facilities.
Automotive: The automotive industry extensively uses conveyor chains in assembly plants for transporting vehicle components, body frames, engines, and other parts throughout the production process.
Pharmaceutical and Healthcare: Conveyor chains are utilized in pharmaceutical and healthcare facilities for the automated movement of medical supplies, pharmaceutical products, and laboratory specimens.
Chemical and Petrochemical: Conveyor chains are employed in chemical and petrochemical industries for the handling of hazardous materials, bulk chemicals, and raw materials during production and storage.
Construction and Building Materials: Conveyor chains are used in construction sites and building material production facilities for conveying materials such as cement, bricks, aggregates, and roofing materials.
These are just a few examples, and conveyor chains are also utilized in many other industries where efficient material handling and transportation are essential for the production and distribution processes.



editor by CX 2023-11-20