Product Description
Sprockets for Drop Forged Chains
Chain
Model
Pitch
(mm)
Gear
Number
Z
D2
(mm)
D
(mm)
D3
(mm)
D1
(mm)
D4
(mm)
A
(mm)
Number
of Bolts
Bolt
Size
B
(mm)
C
(mm)
P100
100
6
197.8
70
105
143
135
83
6
M12
16
36
100
7
228.2
70
108
146
173
83
6
M12
16
36
100
8
259.1
85
144
170
196
83
6
M12
16
36
100
9
290.4
105
174
200
232
83
6
M12
16
36
100
10
321.9
105
179
241.3
264
83
8
M12
16
36
P142
142
6
284
85
136.5
168.3
190.5
112
6
M12
16
46
142
7
327.3
105
162
200
234
112
6
M16
16
46
142
8
371.1
115
187.3
241.3
282
127
8
M20
16
46
142
9
415.2
150
240
285.8
330
127
8
M20
16
46
142
10
459.5
150
240
285.8
330
127
8
M20
16
46
142
11
504
170
310
368.3
419
150
8
M20
16
46
142
12
548.6
170
345
415
465
150
8
M20
16
46
142
13
593.4
170
380
470
521
150
8
M20
16
46
142
14
638.1
170
380
470
546
150
10
M20
16
46
P142H
142
7
327.3
105
162
200
234
127
6
M16
18
69
142
8
371.1
115
187.3
241.3
282
150
8
M20
18
69
142
9
415.2
150
240
285.8
330
150
8
M20
18
69
142
10
459.5
150
240
285.8
330
150
8
M20
18
69
142
11
504
170
310
368.3
419
150
8
M20
18
69
142
12
548.6
170
345
415
465
150
8
M20
18
69
142
13
593.4
170
380
470
520
180
8
M20
18
69
142
14
638.1
170
380
470
546
180
10
M20
18
69
Trailers for Drop Forged Chains
Chain Model
Gear Number
Z
D1
(mm)
D
(mm)
A
(mm)
C
(mm)
P100
6
197.8
65
57
35
7
228.2
65
57
35
8
259.1
65
57
35
9
290.4
65
57
35
10
321.9
65
57
35
P142
6
284
85
74
45
7
327.3
85
74
45
8
371.1
85
77
45
9
415.2
115
77
45
10
459.5
115
77
45
11
504
115
105
45
12
548.6
115
105
45
13
593.4
115
120
45
14
638.1
115
120
45
P142H
7
327.3
115
110
75
8
371.1
115
110
75
9
415.2
115
110
75
10
459.5
115
120
75
11
504
140
120
75
12
548.6
140
120
75
13
593.4
140
120
75
14
638.1
140
140
75
Note: Customized sizes and material are available CZPT request
Sprockets for Roller Conveyor Chains
Model
Pitch(mm)
Gear Number
Z
d1
(mm)
d
(mm)
D
(mm)
D1
(mm)
A
(mm)
B
(mm)
66.675
66.675
6
22.23
133.41
40
75
80
22.8
66.675
7
22.23
153.74
40
75
80
22.8
66.675
8
22.23
174.31
50
100
100
22.8
66.675
9
22.23
195.04
50
100
100
22.8
66.675
10
22.23
215.87
60
110
100
22.8
66.675
11
22.23
236.78
60
110
100
22.8
66.675
12
22.23
257.74
60
110
100
22.8
100
100
8
36
261.44
60
110
100
33.2
100
9
36
292.52
70
120
100
33.2
100
10
36
323.77
70
120
100
33.2
Tht
The full range of our conveyor products:

 
| | |
| --- | --- |
| Transport Package: | Pallet |
| Specification: | Drop Forged Chain Sprockets, Roller Chain Sprocket |
| Trademark: | Yutung |
| Origin: | China |
Samples:

US$ 10/Piece

1 Piece(Min.Order)

|
Request Sample
Customization:

Available

|

Customized Request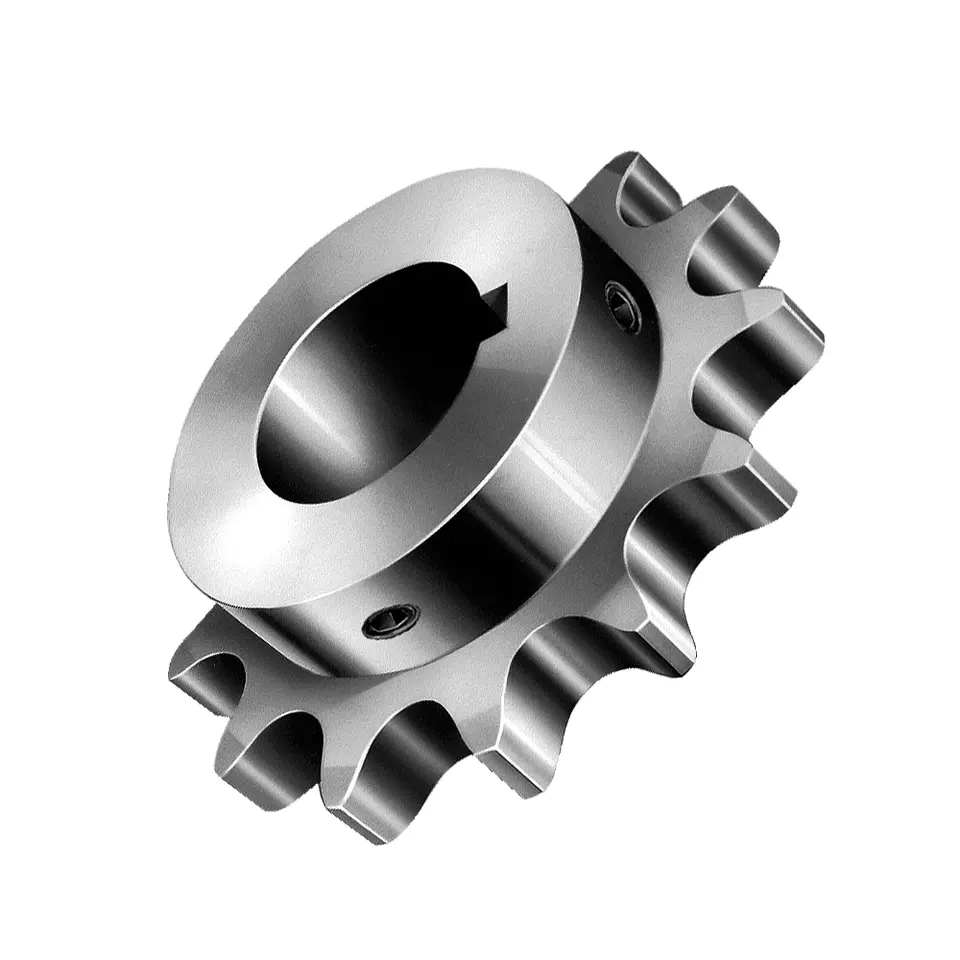 Safety Precautions for Working with wheel sprocket Systems
Working with wheel sprocket systems involves potential hazards, and it's essential to follow safety precautions to prevent accidents and injuries. Here are some safety measures to consider:
Proper Training: Ensure that anyone working with the wheel sprocket systems is adequately trained in their operation, maintenance, and safety procedures.
Use Personal Protective Equipment (PPE): Always wear appropriate PPE, such as safety glasses, gloves, and protective clothing, to protect against potential hazards.
Lockout/Tagout: Before performing any maintenance or repair work on the system, follow lockout/tagout procedures to prevent accidental startup or energization.
Keep Work Area Clean: Maintain a clean work area and remove any debris or obstacles that could interfere with the operation of the system.
Inspect Regularly: Regularly inspect the wheels, sprockets, and chains for signs of wear, damage, or misalignment. Address any issues promptly.
Ensure Proper Lubrication: Adequate lubrication of the sprockets and chains is crucial for smooth operation and to reduce friction and wear.
Check Tension: Verify that the chain tension is within the recommended range. Too loose or too tight tension can lead to operational problems.
Avoid Loose Clothing: Keep long hair, loose clothing, and jewelry away from moving parts to avoid entanglement.
Follow Manufacturer's Guidelines: Adhere to the manufacturer's guidelines and recommendations for installation, operation, and maintenance of the wheel sprocket system.
Use Guards and Enclosures: Install appropriate guards and enclosures to protect against contact with moving parts.
Safe Handling: When transporting or handling heavy wheels or sprockets, use proper lifting techniques and equipment.
Prioritizing safety when working with wheel sprocket systems is essential to prevent accidents and maintain a safe working environment. Always be vigilant, follow safety protocols, and address any concerns promptly to ensure the well-being of everyone involved.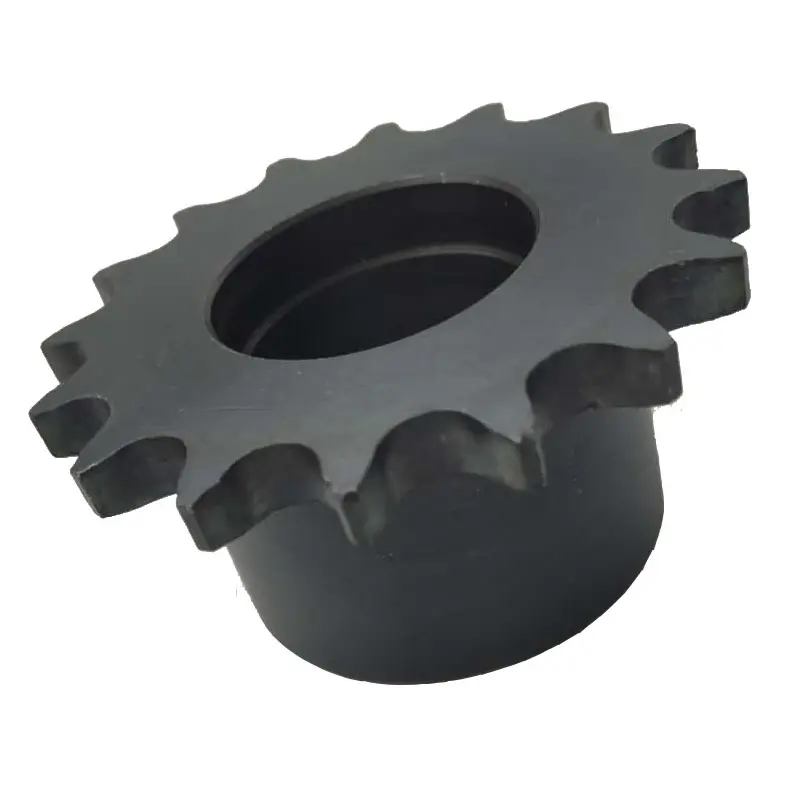 Using wheel sprocket Assembly in Robotics and Automation
Yes, wheel sprocket assemblies are commonly used in robotics and automation systems to transmit power and facilitate movement. These systems offer several advantages for robotic applications:
Efficiency: wheel sprocket assemblies provide efficient power transmission, ensuring smooth and precise movement of robotic components.
Compact Design: The compact nature of sprockets and wheels allows for space-saving designs, making them ideal for robotic applications where space is limited.
Precision: Sprockets and wheels with accurate teeth profiles provide precise motion control, crucial for robotics and automation tasks that require high levels of accuracy.
Low Noise: Properly lubricated and maintained wheel sprocket systems generate minimal noise during operation, contributing to quieter robotic movements.
Customizability: wheel sprocket assemblies can be customized to suit specific robotic requirements, such as different gear ratios, sizes, and materials.
Multiple Configurations: Depending on the robotic application, different configurations like single or multiple sprockets, idler sprockets, or rack and pinion systems can be used.
High Load Capacity: Sprockets made from durable materials like steel can handle substantial loads, making them suitable for heavy-duty robotic tasks.
Examples of robotics and automation systems that commonly use wheel sprocket assemblies include:
Robotic Arms: wheel sprocket systems are utilized in robotic arms to control their movement and reach.
Automated Guided Vehicles (AGVs): AGVs use wheel sprocket assemblies for propulsion and steering, enabling them to navigate autonomously.
Conveyor Systems: In automated factories, conveyor belts are often driven by sprockets and wheels for efficient material handling.
Mobile Robots: Wheeled mobile robots use wheel sprocket assemblies to drive their wheels, enabling them to move in various directions.
Robot Grippers: wheel sprocket mechanisms can be integrated into robot grippers to facilitate gripping and handling objects.
The choice to use wheel sprocket assemblies in robotics and automation depends on the specific application requirements, load capacity, precision, and environmental conditions. By selecting the appropriate sprockets, wheels, and materials, engineers can ensure reliable and efficient robotic performance in a wide range of automated tasks.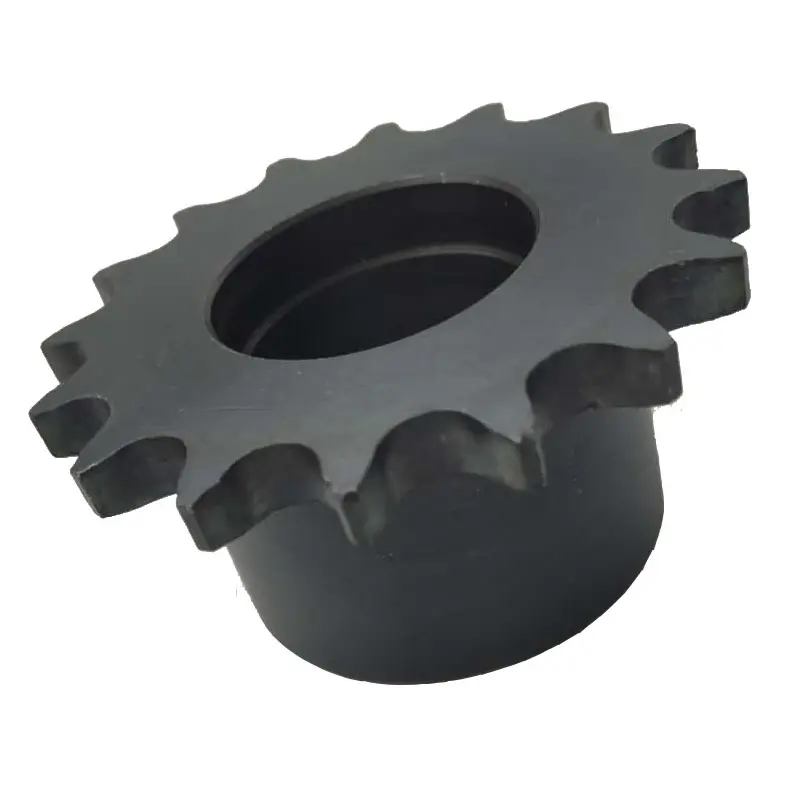 Role of a wheel sprocket in a Mechanical System
In a mechanical system, a wheel sprocket play a crucial role in transferring motion and power from one component to another. They are essential elements of various machines and mechanisms, such as bicycles, conveyor systems, automobiles, and industrial machinery. Let's explore their functions in more detail:
1. Wheel:
The wheel is a circular component with a central shaft (axle) that allows it to rotate freely around the axle's axis. Its primary functions include:
Motion Transmission: When a force is applied to the wheel's outer edge, it rotates around the axle, enabling the transfer of linear motion into rotational motion.
Load Bearing: The wheel's structure and material are designed to support and distribute the load placed on it, allowing smooth movement over various surfaces.
Reduction of Friction: By using wheels, the friction between the moving object and the ground is significantly reduced, making it easier to move heavy loads with less effort.
Directional Control: Wheels can be attached to steering mechanisms to control the direction of movement in vehicles and other equipment.
2. Sprocket:
A sprocket is a toothed wheel designed to mesh with a chain or a belt, facilitating motion transfer between the sprocket and the chain/belt. Its key functions include:
Power Transmission: When rotational force (torque) is applied to the sprocket, the teeth engage with the links of the chain or belt, transferring motion and power from one sprocket to another.
Speed and Torque Conversion: Different-sized sprockets can be used to adjust the speed and torque of the driven component in a mechanical system.
Positive Drive: The teeth on the sprocket and the links on the chain/belt create a positive drive system, reducing the likelihood of slippage or loss of power during operation.
Chain/Belt Tensioning: Sprockets help maintain proper tension in the chain or belt, ensuring optimal performance and longevity of the power transmission system.
Together, wheels and sprockets form a vital part of mechanical systems, enabling efficient motion transmission, power transfer, and control in a wide range of applications across various industries.



editor by CX 2023-11-20